Can You Get a Sarafem Prescription Online?
If you have symptoms of anxiety, excessive worrying, or a lack of concentration, you may be diagnosed with an anxiety disorder. You'll probably be wondering about what medications you might need to take and how they'll make you feel. One medication prescribed for anxiety is Sarafem. Find out more here about getting a Sarafem prescription online, and if it may be the right fit for you to get you back on track and living your life.
Can You Get a Sarafem Prescription Online?
Yes, you can get a prescription for Sarafem online, but you should ensure that the website is legitimate with well-trained healthcare providers and doctors on call. You should be wary of any website that offers to sell medications without first having a consult with a certified physician, this is illegal.
Luckily, there are online tele-healthcare websites that are legitimate. Sites like PlushCare offer convenient appointments with a doctor of your choice. You can schedule to meet your doctor via video chat where you will get a proper evaluation, diagnosis, and prescription for medications such as Sarafem.
To speak with one of our doctors at Plushcare, just click here or call (888) 660-5348 to make an online appointment and discuss with your doctor the benefits of Sarafem and if it is right for you. It's just that easy to get a Sarafem prescription online!
What is Sarafem?
Sarafem, also known as fluoxetine, belongs to a class of medications known as selective serotonin reuptake inhibitors (SSRIs). It is an antidepressant medication that is used to treat conditions such as panic disorder, bulimia nervosa, major depressive disorder, obsessive-compulsive disorder (OCD), and premenstrual dysphoric disorder (PMDD).
In some instances, Sarafem may be used in conjunction with Zyprexa to treat bipolar disorder or manic depression. This combination may be chosen by your doctor after two or more medications have already been tried without successful resolution of your symptoms.
How Does Sarafem work?
Sarafem and other SSRIs work by preventing serotonin from being released too rapidly in your brain. If serotonin is absorbed too quickly, the neurons in your brain can't communicate as well. Fewer signals moving between neurons means that your physical energy can be depleted, and your moods can fluctuate quickly or go to extremes.
Taking an SSRI like Sarafem helps to keep serotonin in synapses. This means that serotonin stays in the spaces between your neurons for longer, which helps neurons within your brain communicate and can help improve your mood and energy levels.
Sarafem Dosage and Treatment
For initial treatment when first taking Sarafem, the recommended dose is commonly 20 mg per day. For conditions like PMDD, the dosage would be 20 mg per day to be given every day of your menstrual cycle. Alternative dosage might include starting a daily dose 14 days before the onset of your menstruation until the first full day that your menses starts. Your doctor will decide what type of dosage to recommend based on the characteristics of your symptoms. Some patients may stick with this dosage for up to 6 months but will be periodically reassessed by their doctor.
Benefits of Sarafem
Sarafem can help relieve symptoms of depression, irritability, and anger, especially with premenstrual dysphoric disorder. Many women find that they can take this medication before and after pregnancy to help regulate their mood shifts and symptoms of anxiety.
In some cases, Sarafem may be prescribed to treat attention deficit disorder (ADD), headaches, borderline personality disorder, alcohol abuse, and sleep disorders such as insomnia.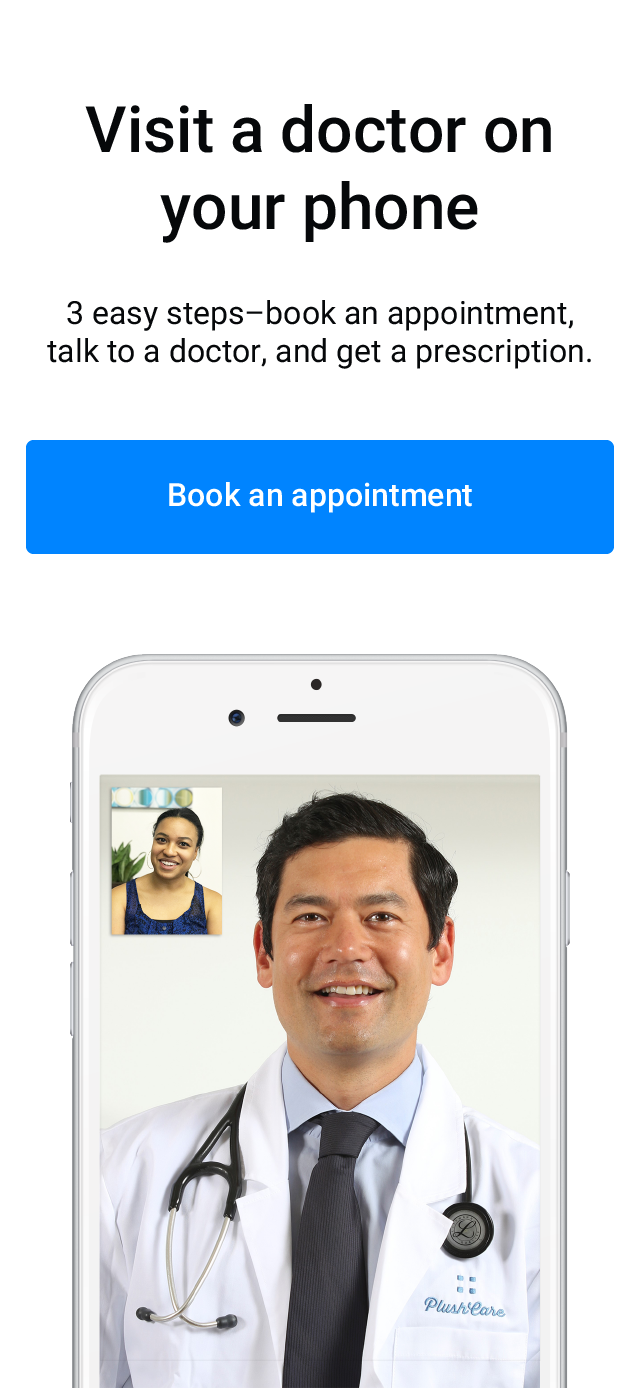 Side Effects of Sarafem
Sarafem is generally well-tolerated by most patients. Most common side effects are mild and may include to following:
On occasion, Sarafem may have more serious side effects. If you experience any of the following symptoms, you should contact your doctor. Some side effects may include:
Certain medical conditions may interfere with the use of this medication. Let your doctor know if you have any of the following medical issues:
Drug Interactions
When you see your doctor, be sure to let them know about any other medications you are currently taking. This includes any nonprescription medications such as vitamins, herbal remedies, or nutritional supplements. Some medications that may interact with Sarafem may include the following:
If you're interested in getting a Sarafem prescription online book an appointment with a PlushCare doctor to see if it's right for you. If the doctor finds that you can benefit from Sarafem, they will electronically send a prescription to your local pharmacy. Click here to book an appointment today.
PlushCare takes content accuracy seriously so we can be your trusted source of medical information. Most articles are reviewed by M.D.s, Ph.D.s, NPs, or NDs. Click here to meet the healthcare professionals behind the blog.
Read More About Getting Sarafem Online