Online Doctors are Making Life Easy for Patients
Visits to the doctor can be a hassle, particularly for small things like prescription refills and long-term condition maintenance and testing. That's why PlushCare's face-to-face with a doctor solution is used by 100,000 patients.
While virtual doctor visits are easy, you shouldn't sacrifice quality care for convenience. As such, PlushCare employs doctors from only top 50 medical schools and resolves 97% of issues on the first visit. We're proud to offer the best online medical care anywhere.
Part of providing complete care is transparency. We interviewed a few of our doctors to learn a little more about their professional and personal backgrounds.
Read on or if you're ready to book an appointment, do so here.
Dr. Allan Marks
Dr. Marks is one of our original physicians. He has been with PlushCare since April, 2015.
Dr. Allan Marks' medical philosophy is simple: treat all patients like "ohana," which means family in Hawaiian. Having been with PlushCare since 2014, Dr. Marks is one of our original physicians. He has always been excited about the opportunity to provide high quality, affordable care to patients across the country.
After growing up in Brooklyn, NY Dr. Marks got his initial medical education at the University of Rochester School of Medicine and Dentistry. He then headed west to complete his residency at Stanford University Medical School.
Dr. Marks has over 30 years of experience in private practice, much of which was focused on family medicine. He has special interests in Asthma, Allergy, and Gastroenterology and enjoys helping his patients improve their quality of life. He has served as a Clinical Instructor at Stanford, is Board Certified and is a fellow of the American Academy of Pediatrics.
When he's not practicing telemedicine, Dr. Marks likes to spend his free time playing tennis. He and his wife also enjoy traveling and visiting their three children in Los Angeles, Santa Clara and New York.
Dr. Benjamin Bowling
Dr. Bowling has been with PlushCare since December, 2016.
Growing up in a family of "science nerds," Dr. Bowling has always known he would be involved in some sort of scientific field. He realized early on, though, that science itself is a bit too abstract for his taste, and he wanted to find a way to actualize his interests, hence his pursuance of a medical degree.
After attending Yale Medical School, Dr. Bowling did his residency at Bellevue Hospital in Manhattan, where he worked mainly with uninsured patients and patients from a lower socioeconomic background. It was this experience that got Dr. Bowling interested in increasing patients' access to care.
Dr. Bowling likes working in telemedicine because he feels it is a way to alleviate this problem of access. He understands that, for many reasons, our healthcare system can be confusing and difficult to navigate. He appreciates the idea of providing amazing healthcare in a more "user-friendly" manner.
In his spare time, Dr. Bowling enjoys hanging out with his dog, mountain and road biking, hiking, reading, podcasts, traveling, and, depending on the season, surfing or snowboarding.
Dr. Susan Savery
Dr. Savery has been with PlushCare since January, 2017.
Dr. Savery became a physician because she loved the idea of helping people and enjoyed the academic challenge that her medical education presented.
After growing up in Duluth, Minnesota, Dr. Savery attended the University of Minnesota Medical School. She went on to complete her family medicine training in Virginia and is licensed to practice in both Virginia and California.
Because her husband is in the military, Dr. Savery has not had your typical doctor's experience. Moving every couple of years has prevented her from setting up a traditional practice, but she feels lucky to have been able to focus her efforts on urgent care and, now, telemedicine.
The changing environment has granted her the flexibility to work full-time, part-time, and, in one case – whilst living in Italy – not at all.
Dr. Savery enjoys telemedicine because she's found that patients feel more comfortable talking to her in the privacy of their own home. She finds it exciting to be a part of PlushCare because it is allowing patients who might otherwise have trouble accessing a physician the ability to see a world-class doctor.
Outside of medicine, Dr. Savery is happiest when she is spending time with her family. They particularly enjoy going on adventures – whether it's rock climbing, backpacking, camping, or hiking, you can always find them on the move.
The Doctor says that her next adventure will be to learn how to sail!
Dr. James Wantuck, Chief Medical Officer and Founder of PlushCare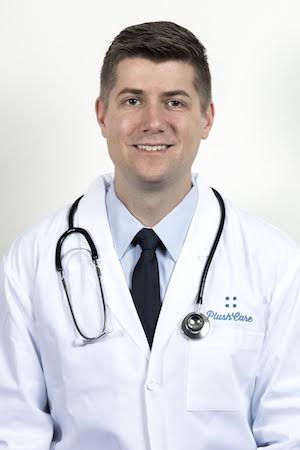 After spending years working in the medical field, Dr. Wantuck decided that there was a better way to do medicine than through the difficult and opaque healthcare system we're all familiar with today.
A short time later, PlushCare was born. Dr. Wantuck, along with his business partner Ryan McQuaid, decided to start PlushCare because they wanted to provide efficient, convenient and high quality medical care to their patients.
Prior to founding PlushCare, Dr. Wantuck studied at Vanderbilt University, where he enjoyed the Southern culture (and its tasty food). After Vanderbilt, he traveled to Palo Alto, CA to complete his residency at Stanford Medical Center. He stayed on as a staff physician at the Veterans Affairs Hospital in Palo Alto until he launched PlushCare.
When asked about his proudest moment as a physician, Wantuck says it's not so much one particular moment, but rather the small gratifications of his day-to-day patient interactions. He says the thanks from patients, reading the patient reviews, seeing the dedication and hardwork of the PlushCare team, and engaging with his fellow telemedicine physicians are what makes him proud every single day.
On days in which we have hundreds of appointments, Dr. Wantuck frequently sees patients himself!
In his free time, James enjoys golfing, skiing, and traveling.
Dr. Wan Chen Yeap
Dr. Yeap has been with PlushCare since July, 2015.
Dr. Yeap completed her initial medical education at McGill University in Montreal, Canada. Upon graduation, she traveled to Cambridge, MA to do her Internal Medicine residency at Harvard Medical School.
After finishing that training, Dr. Yeap worked as a hospital doctor in Rhode Island for several years. She says that despite what the locations of her early medical career might indicate, she hated the cold weather and the snow, which is why she decided to move to California.
It was in California that she eventually broke into the field of healthcare administration, working as a medical director for health plans and large medical groups.
Having been both a doctor and an administrator, Dr. Yeap feels she has had exposure to all of the major inefficiencies that exist in our current healthcare system.
She was excited to discover telemedicine because she sees it as a way to help solve those inefficiencies. She knew she wanted to get involved in the industry as soon as possible, which is why she now works at PlushCare.
Outside of the medical world, Dr. Yeap is a mother to a toddler, who she loves watching grow. She appreciates that telemedicine allows her the flexibility she needs to be a working mother.
Beyond medicine, Dr. Yeap's interests include all things wellness. In her free time you can find her going to the gym, doing crossfit and martial arts, and cooking yummy, healthy meals for herself and her family.
Dr. David Crabtree
Dr. Crabtree is new to PlushCare. He has been with us since January, 2018.
Dr. Crabtree grew up in a small mining and farming community in Virginia. He spent many hours shadowing physicians at his local community hospital, which is what helped him decide that he wanted to pursue medicine.
Dr. Crabtree received an academic scholarship to attend East Tennessee State University, where he was accepted to medical school after completing his freshman year. He went on to attend ETSU's Quillen College of Medicine, a medical school nationally recognized for rural medicine and primary care training. He also used this time to work on health policy and education issues for US Senator Mark Warner.
After earning his MD with AOA honors, Dr. Crabtree headed west for his residency training at the University of California – San Diego.
After completing an internship in UCSD's Department of Psychiatry, Dr. Crabtree began training in preventive medicine in UCSD's Department of Family Medicine & Public Health. He now serves as co-chief in the residency. Dr. Crabtree will begin addiction medicine fellowship training at the University of Utah this year.
Dr. Crabtree has special professional interests in addiction medicine, infectious diseases, mental health, sexual health, and LGBTQ health. Throughout his training, Dr. Crabtree has always sought to put patients and their well-being first. He also strongly encourages patients to speak freely and openly about any and all health concerns.
Practicing telemedicine is particularly exciting for Dr. Crabtree, as he can more easily put the patient first. He also likes that telemedicine makes medical care more convenient for his patients.
Outside of medicine, Dr. Crabtree primarily spends time with his 2-year old puppy, Marlo the Shiba Inu. Music festivals are Dr. Crabtree's vacations. He has been to over a dozen electronic dance music festivals and especially enjoys trance music.
PlushCare Physicians
We hope you have an excellent experience with your PlushCare physician. If you have any questions or comments, we're always here to answer. Email us at [email protected].