Can You Use Health Insurance For Online Doctor Appointments?
Whether or not you can use health insurance for an online appiontment will depend on the telemedicine company. PlushCare accepts both insured and uninsured patients. We accept all major health insurance companies.
That said, not all telemedicine companies accept insurnace and some are known to have high appointment fees, so be sure to check before you book an appiontment, or just book with us!
With the high cost of healthcare, having questions about whether or not you will be able to see a doctor when you need one can be a major concern. Many people are starting to use telemedicine in order to cut down on health care costs while also being able to conveniently speak with a doctor without having to sit in germy waiting rooms for long wait times.
However, even with a lower price point, you may be wondering if you can use your health insurance plan for online doctor's appointments.
While not all telemedicine services accept health insurance, PlushCare offers the ability for patients with or without insurance to receive world-class care by our physicians. If you don't have health insurance, we even offer an affordable $99 flat-fee which takes the stress out of figuring out how you will afford a large medical bill.
Need to see a doctor? Here's what you need to know about health insurance and online doctor's appointments, and how to know exactly how much it will cost you.
Health Insurance For Online Doctor's Appointments
When deciding which online doctor service to work with, it's important to know that not everyone accepts insurance. Some services will only accept flat-rate fees. At PlushCare, if you have health insurance, we are happy to treat you.
We accept health insurance from most providers, including:
• UnitedHealthcare
• Anthem Blue Cross
• Cigna
• Humana
• BCBS
• Blue Shield of California
If you do not see your health insurance plan listed we might still be able to help, email us at [email protected] or call us at 1-800-221-5140 to see if we can work with you and your health insurance plan.
When using insurane for an online appointment you will pay the typical copay that you would pay in person at a doctors office. The average patient pays $25.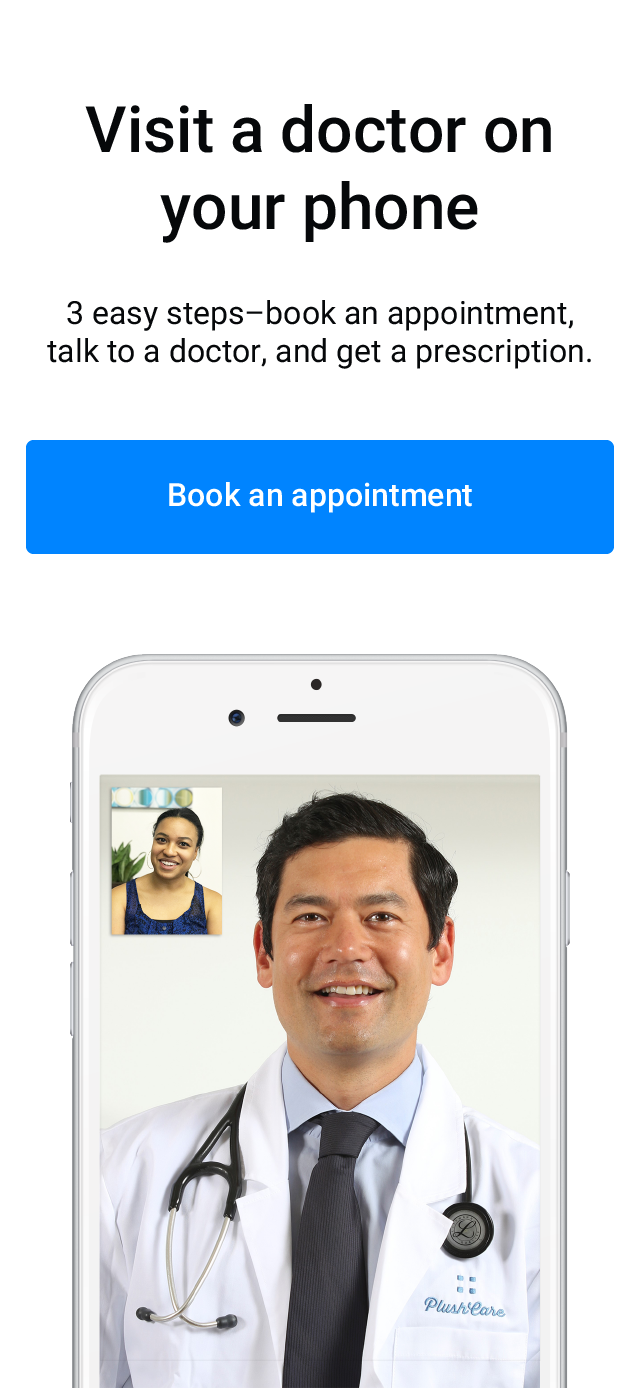 Options for Those Without Health Insurance
One of the many perks of working with our PlushCare doctors is that we offer a $99 flat fee for those who do not have insurance. This affordable fee makes it possible for everyone to be seen by a doctor without a long wait time, or an expensive price tag.
This flat rate fee can also be beneficial for anyone who has a high deductible insurance policy and would prefer to pay out of pocket. At PlushCare, we give you the option to decide which payment option is going to work best for you.
There are no hidden fees or subscription costs, you will only be charged you typical copay or $99 for your uninsured appointment. We also have a treatment guaranteed policy so if our doctors can't help you, you get your money back.
See a Doctor Today
Seeing a doctor online is a great way to receive convenient and affordable care. To ensure that you can use your insurnace book an appointment with PlushCare and don't worry about your coverage.
As mentioned above, you will only be charged if the online doctor is able to treat you. We guarantee this by charging your card 30 minutes after your appointment, so if the doctor was unable to treat you, the scheduled payment will be canceled. If the doctor believes that you should be seen in person, he or she can refer you to an in-person provider.
Book your appointment and speak with a PlushCare doctor about your health concerns, and get any prescription medication sent straight to your local pharmacy. The best part is that you may even be able to see a PlushCare doctor as soon as today. Online bookings are available 24/7, so you can book an appointment when it's most convenient for you. Find out just how fast, convenient, and affordable seeing on online doctor can be by seeing a PlushCare doctor today.
PlushCare takes content accuracy seriously so we can be your trusted source of medical information. Most articles are reviewed by M.D.s, Ph.D.s, NPs, or NDs. Click here to meet the healthcare professionals behind the blog.
Read More About Online Doctor Appointments
Sources