Find out why users everywhere are choosing to use online doctors.
Between urgent care, emergency rooms, primary care, online doctors and everything in between, it can be difficult to decide which option is right for you. Online doctors are definitely the most convenient option, but it's important to evaluate whether they can help you with your medical needs. Read below to learn a bit more about what your online doctor can do for you!
What is an Online Doctor?
An online doctor is exactly what it sounds like: a doctor that you can speak to through your phone, computer or tablet.
Online doctors are able to diagnose, treat, and prescribe medication for a variety of conditions. They save you time, stress, and often cost the same amount as going to the doctor in-person. The goal of online doctors is to make medical care as easy and convenient as possible.
Online doctors often practice medicine both in-person and online. They may have a "day job" working at a hospital or smaller practice and choose to spend their evenings or weekends practicing medicine from the comfort of their homes. Telemedicine is great because it gives both patients and physicians the flexibility and convenience of speaking to each other from wherever they may be.
Here at PlushCare, all of our doctors have attended one of the top 50 medical institutions, so you can rest assured that you will be receiving top-notch, quality care. Our doctors are excited about the opportunity to make medical care more affordable and more accessible!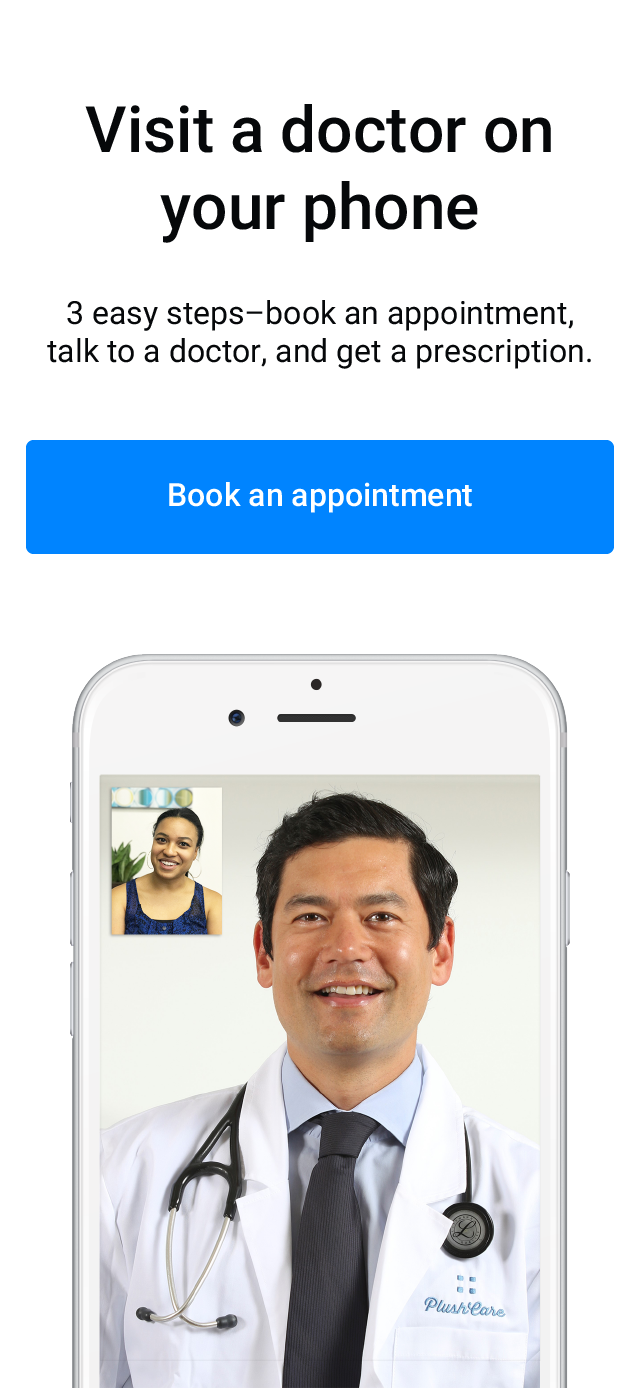 Online Doctors vs. Urgent Care Physicians
As necessary as they are, conventional urgent care centers come with a wide range of potential problems.
One of the biggest issues involves sheer visit numbers. While the demand for good urgent care centers and walk-in clinics has remained high, the decline in resources and clinic staff have led to fewer urgent care centers in cities. This forces many potential patients to travel long distances just to see a doctor, presenting true accessibility problems for those who don't have easy access to a car or public transportation.
Some in-person urgent care clinics are also not open seven days a week, which can make it difficult for some to even visit urgent care centers on their own schedules.
Ultimately, all of these factors—few clinics, long commutes, limited hours and days of operation—can lead to packed waiting rooms with long wait times. This is more than just an annoyance. The extra stress of being in a full room can negatively affect your health, flooding your body with stress hormones that can hamper your immune system.
Full waiting rooms can also cause healthcare-associated infections. Sitting in the confined space of a waiting room for potentially hours with other ill people can easily lead to you contracting an illness. For instance, you may be in the clinic to get treated for an Urinary Tract Infection. You may be asked to wait with other patients, some of whom have a cold. While you may get your UTI taken care of, the cold virus may have worked its way into your system, and you may actually walk out sicker than when you walked in.
Consumers are turning to online doctors for this very reason. Online physicians make it quick, simple and convenient to get care and eliminate many of the downsides of going to an urgent care. There are no waiting rooms (and thus, no unwanted illnesses), no commutes, and no limitation on hours of operation.
PlushCare is open from 6am to 10pm PST, 7 days a week. Our physicians are extremely accessible, and you don't have to wait in a waiting room. After booking, you simply go about your day. At the time of the appointment, you can log on to our application or website, speak with the doctor, and get your prescription sent to a pharmacy near you. Seeing an online physician is the most convenient way to get yourself healthy, fast!
Okay, So When Should I Use an Online Doctor?
Your online doctor can treat a variety of different illnesses. They are able to treat acute conditions like sinus infections or the flu, but they are also able to treat chronic illnesses like thyroid issues, diabetes, high blood pressure, and more.
Some of the most common things that PlushCare physicians treat are:
What Can an Online Doctor Prescribe?
PlushCare's online doctors can write 90-day prescriptions for any medications you were previously prescribed. They can also provide a new prescription for any medications approved by the Drug Enforcement Administration. When you have a PlushCare appointment your doctor will send your prescription to the pharmacy immediately after the appointment is complete.
PlushCare physicians can prescribe:
Antibiotics
Allergy medication
Birth control refills
Diabetes medication
Thyroid medication
Blood pressure medication
Antidepressant refills
PEP
…and more!
Online Doctor Prescriptions
Online doctor prescriptions follow the same process as in person doctor prescriptions. Improper use of prescription drugs or an incorrect dosage can be dangerous. Thankfully, doctors, both on and offline, have to take a variety of precautions for proper usage to ensure the safety and wellbeing of patients.
With remote prescribing, most of the safety and precautions come from the actual examination, consultation, and diagnosis. To maintain safety, the doctor will:
Determine all your current medical conditions, which includes any past drug history and current prescriptions and over-the-counter medications used
Identify what's causing your current condition through their examination of your health
Make sure that your condition presents enough justification to actually prescribe medication
Rule out the possibility of any contraindications, which refer to any situation where the medication may actually cause harm to the patient, either based on personal health or interactions with other medication
Online doctors are prohibited from prescribing controlled substances. Controlled substances are medications that are regulated by the government. Examples of controlled substances include narcotics, medical marijuana, stimulants, and sedatives.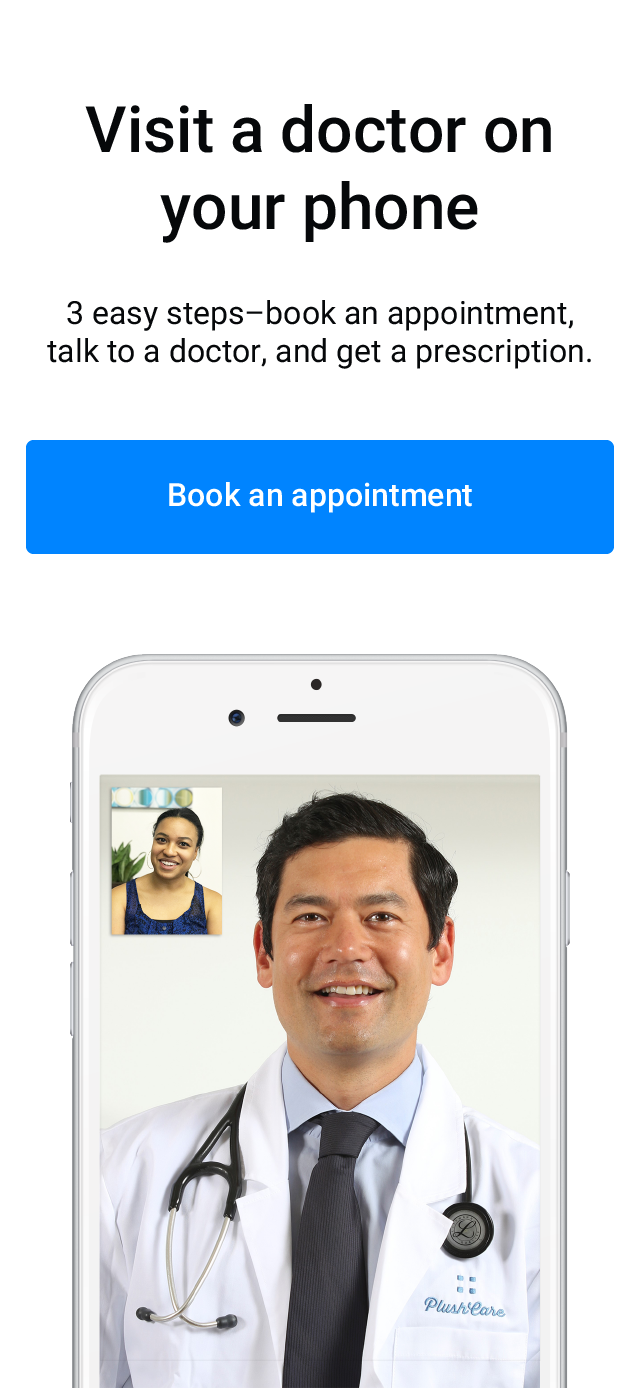 The Online Doctor Process
While specifics vary from doctor to doctor, most online doctor visits follow the same basic process. It starts with making an appointment, which can include registering or making an account.
From there, your doctor contacts you for a one-on-one video chat or phone call. Video chat appointments not only help to make you more comfortable, but also give your online doctor a more accurate understanding of your symptoms.
During your visit, you can talk to your doctor about what's bothering you, ask any questions you might have, and essentially treat the experience as you would any other doctor's visit. While some online doctor services have timed visits, most consultations should take about 10 to 15 minutes.
At the end of this consultation, your online doctor will diagnose your condition and provide you with a personalized treatment plan, which may include any necessary prescription medications. If you do require a prescription, your online doctor will send it electronically to a pharmacy of your choosing, where you can pick it up at your convenience.
What If I Need Lab Work Done?
PlushCare's online doctors are able to order any lab work that they think you might need. If they deem lab work necessary they will order the appropriate tests and provide you with instructions on how to get tested. If you need help navigating this process, PlushCare's Care Coordinators are available to help.
Already know the blood work you'd like to have done? You can go straight to our website and order your labs without speaking to a doctor first. PlushCare offers a variety of lab tests, including a STD screening, Basic Metabolic Panel, Women's Health Panel, and Men's Health Panel. PlushCare physicians can provide follow-up appointments if you decide you'd like to speak with a doctor about your results.
Don't like any of our available combos? You can build your own lab package using our customizable tool.
What Online Doctors Cannot Treat
Online doctors are not an appropriate care choice for serious conditions that require immediate attention. If you experience any life-threatening issues, call 911 or go to an emergency room immediately.
Other limitations to online doctor care include:
Substance abuse
Suicidal ideation
Mental and emotional health evaluation
Hair loss
Controlled substance prescriptions
PlushCare is dedicated to giving you an affordable, convenient health care experience. Not sure if your condition will work with an online doctor? Give us a call at 1-800-221-5140 and we'd be happy to assist you in deciding.
How to Speak With an Online Doctor
Book an Appointment
Schedule an appointment with an online physician of your choice by calling PlushCare or visiting our online booking page. This is designed to give you complete control over your own schedule and needs, whether you need a same-day appointment or want to plan ahead.
Oftentimes an appointment will be available within the hour. While scheduling an appointment, you will be asked to sign in or, if you're a new patient, create a profile. You can set up your payment options and insert your health insurance information.
Talk to Your Online Doctor
Once it's your appointed time, you have two options. The first is a video chat, which helps you better connect with your physician. Video chats also give your physician a better look at any visual symptoms you may be exhibiting, allowing them to make a more thorough diagnosis.
It's important to note that many states, like California, Texas, Florida, and Georgia to name a few, require video appointments by law.
In other states, you may have the option of a phone visit, in which a phone call serves as your actual "visit. During this time you can speak to your doctor about what is bothering you and ask any questions you may have.
At the end of your phone or video chat consultation your doctor will provide a diagnosis and a personalized treatment plan for your condition. Your doctor may also prescribe any medications that they deem necessary to your recovery (as permitted under law).
If you need an online doctor you can book your appointment today at www.plushcare.com! If you'd like assistance booking or have further questions about this process you can call 1-800-221-5140 and one of our Care Coordinators would be happy to assist you.