Don't Miss Work for a Doctor's Appointment
We all know it can be tough to find time to make a doctor's appointment during the week when you've got to put in your 40 (or more) hours. And it's not so easy to schedule time off because your doctor will only see you during working hours. So what's a hard-working person to do? Online health care is here to help.
Online doctor appointments are getting more and more popular these days for those of us who occasionally get sick, need to refill a prescription, or need to see our doctor but can't take time off work. Find out more about how you can get healthy, manage ongoing health conditions, and keep your boss happy at the same time.
The Rise of Telehealthcare Popularity
Telehealthcare services jumped up 53% from 2016 to 2017 and have been steadily increasing ever since.  In addition, insurance claims for online doctor visits increased over 1,200% between 2012 to 2017.  
Telehealthcare's rising popularity is due to convenience and its versatility. An online doctor can help with everything from renewing prescriptions to treating a host of urgent care conditions such as:
Online doctors can also treat primary care conditions such as:
Telehealthcare can also be used for more discreet issues that you may want to keep private such as erectile dysfunction, depression, anxiety, and other mental health conditions.
To read more about the conditions online doctors can treat read our article What Conditions Can Online Doctors Treat?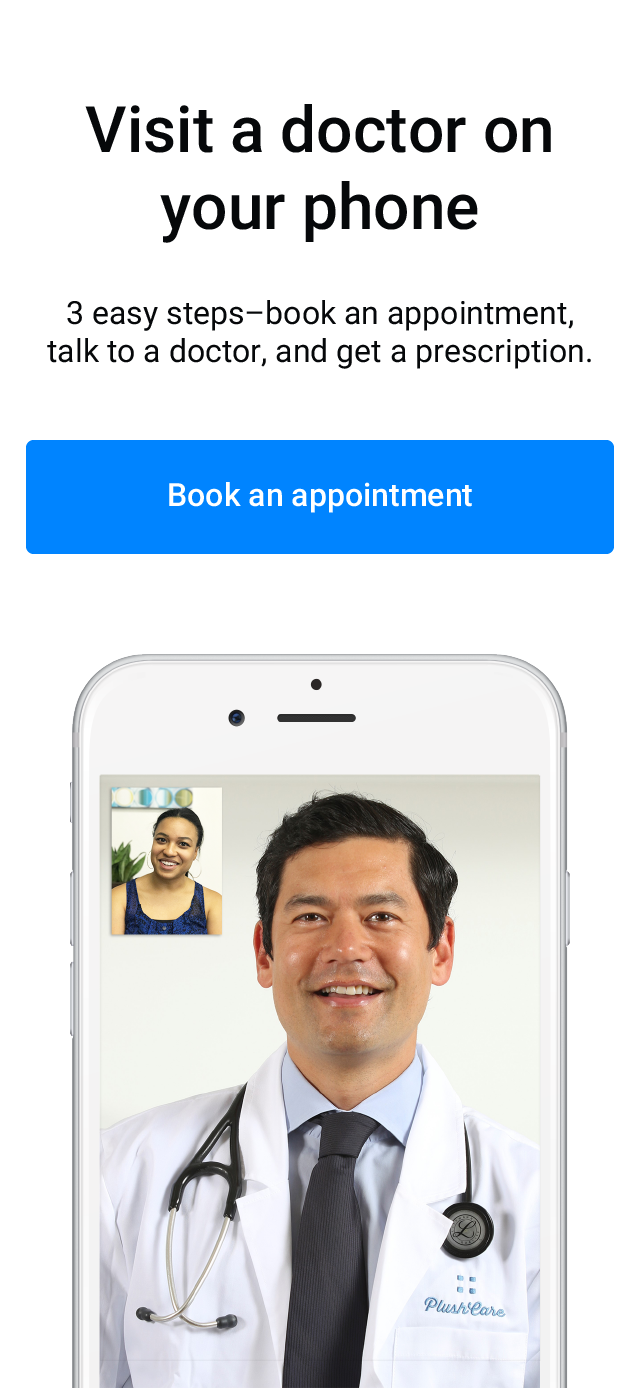 Easy and Safe Without Missing Work
Although virtual doctor visits vary from platform to platform, sites like PlushCare.com offer easy, convenient and affordable doctor's appointments that you can schedule during your lunch hour, break, or even in your office while you're at work, so that you don't have to miss any pressing deadlines.
Doctors at PlushCare have been trained at the top 25 medical institutions in the United States such as Stanford and UCLA, so you can be sure that you are getting just as good of care as you would at a traditional doctor's office.
And if you're wondering if online doctors can write prescriptions, the answer is yes. So even if you need medication you don't need to leave work to get a prescription.
Click here to learn more about how online doctor visits work.
Booking an Appointment That Works for You
Most virtual doctor visits will require you to sign up and create an account. This helps healthcare staff keep track of your necessary information and maintain contact with you and any other necessary doctors or support staff about medical results.
After you sign up, create your profile, and choose an online doctor, you can set up any insurance information and decide on your payment options (PlushCare accepts both insured and uninsured patients).
You have complete control over when to schedule your appointment, whether you want to plan ahead or need a same-day appointment.
Pick Up Your Prescriptions When You Need Them
If you end up needing a prescription after your online health visit, your doctor will send a script electronically to the pharmacy of your choice.
You can get up to 90 days of an online prescription for medications approved by the DEA. This includes medications for allergies, erectile dysfunction, antibiotic and birth control prescriptions, and many more.
To learn more about what an online doctor can prescribe read our article Can an Online Doctor Write a Prescription?
It is important to note that controlled substances cannot be prescribed online. This includes:
Medical marijuana
Narcotics like Oxicodone and Vicodin
Stimulants like Ritalin or Adderall
Sedatives like Lunesta and Xanax
Antipsychotic meds like Rysperdol and Zyprexa
PlushCare takes content accuracy seriously so we can be your trusted source of medical information. Most articles are reviewed by M.D.s, Ph.D.s, NPs, or NDs. Click here to meet the healthcare professionals behind the blog.
Read More About Online Doctor Appointments
References